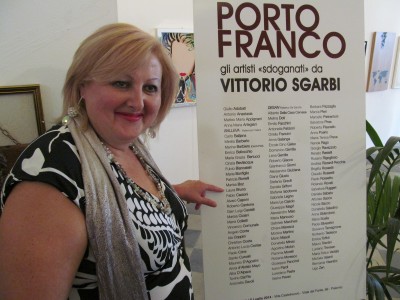 Laura Bruno, born in Casalbore (AV), lives and works in Salerno, Italy. Graduated with full marks in Lettere Moderne and specialized in Aesthetics, she is post-graduated in Archeology and Cultural Heritage. Winning a scholarship to Malta for English, she moved to Cambridge (England) where she successfully passed the "First Certificate in English" test. She attended the Free School of Nude at the Academy of Fine Arts in Naples. State enrolled teacher by competition in Modern Letters, she specialized the teaching to handicapped students. In 2001 she published an essay in Philosophy at the University of Salerno, in 2006 at the University of Pescara. She actually teaches in Middle School.
EXHIBITIONS
She has participated in important artistic
and cultural events with paintings in acrylic, engravings and
graphics, sculptures in bronze, ceramics and installations. In 1997 and 1998 she took part in the International Exhibition Tiberina Island: L'Isola del Cinema Europeo – Rome, Italy. In 2005 she partecipated in the rally for peace on the fortress of Assisi,Italy,in Eurovision, with installations. Her works are in private and public collections in Italy and worldwide. Articles were published in newspapers and magazines of national and foreign importance.
PERSONAL EXHIBITIONS
1996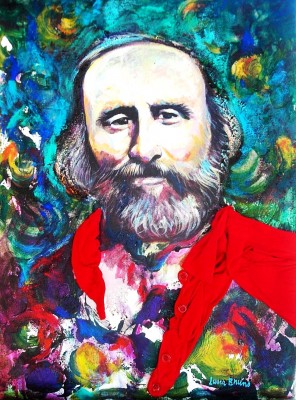 Torre Normanna – Casalbore, Avellino
2002
56th Film Festival – Augusteo Theater, Salerno
2003
Cinema Oriente – Portraits of actors, Torre Del Greco, Napoli
2004
Villa Carrara, Salerno
2005
Old Arsenali, Amalfi
2006
Historic village of Cautano, Benevento
2007
Port Palace, Monaco
Short Film Festival – Terme di Stabia Castellammare di Stabia, Napoli
2008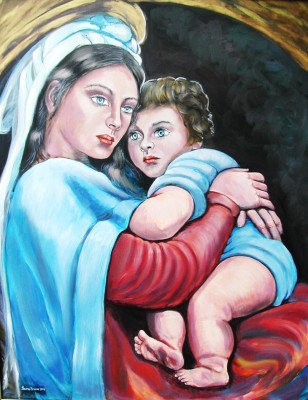 Church of St. George, Stuttgart
Church of St. Martin, Stuttgart
Gallery Càriti, Prague
2009
Gallery Thuillier,Paris
Church of Maria Königin der Martyrer, Wien
Carrousel du Louvre, Paris
Brick lane Gallery, London
Gallery Càriti, Prague
Centro Artisti Salernitani, Salerno
2010
Centro Artisti Salernitani, Salerno
Sala Espositiva Milione House, Salerno
Hotel Majestic, Battipaglia
2011
Chiesa di Santa Sofia, Salerno
Chiesa di Sant'Apollonia, Salerno
Museo della Civiltà Normanna, Castello di Ariano Irpino Ward Nasse Gallery
Minipersonale di grafica, New York
2012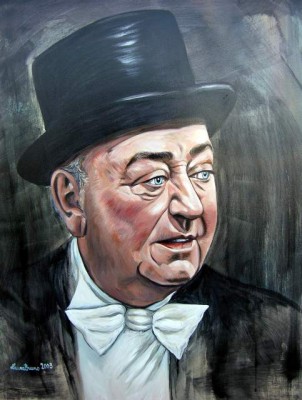 Festival del Cinema: Cinecibo – Castello di Castellabate, Salerno
2013
ArtGallery – permanent exhibition – piazza Duomo, Ravello
Convento Abate Conforti, Salerno
Sieti, Salerno
2014
Museo Papi, Salerno
2015
Istituto Vicinanza, Salerno
FAI, Salerno
Arco Catalano e Palazzo Pinto, Salerno
COLLECTIVE EXHIBITIONS
Bruxelles: BELGIUM. Cannes: FRANCE. London: GREAT BRITAIN. Paris: FRANCE. Prague: REP.CECA. Stuttgart: GERMANY. Montevideo- URUGUAY. S.Paolo- BRAZIL. Santa Fè- ARGENTINA. ITALY: Amalfi, Assisi, Avellino, Bari, Benevento, Bergamo, Bologna, Cagliari, Capri, Civitavecchia, Ferrara, Florence, Genoa, Giffoni Valle Piana, Isola La Maddalena, Lecce, Milano, Naples, Nuoro, Palermo, Parma, Paestum, Ravello, Reggio Emilia, Roma, Salerno, Sorrento, Torino, Torre Del Greco, Viterbo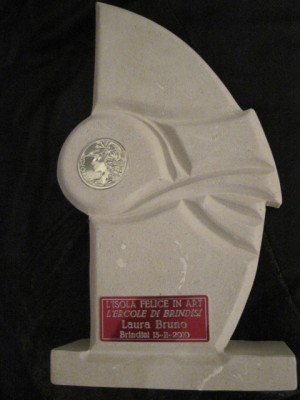 AWARDS
She has won numerous awards and recognitions.
Some significant are: –
2003 – "3rd prize and engraved silver," International Competition "San Daniele Comboni," sponsored by the Vatican and the City, Rome. –
2005 – "1st prize" at the International Engraving "Fabrizio Romano, NAPOLI. –
2007 – "Special Prize and the silver medal" in the International Pope John Paul II – POMPEI –
2008 – 1) "1st Prize" for graphics-"Academy Alfonso Grassi". SALERNO || 2) "2nd International Prize for Painting", City of Bellizzi (Sa).
2009– 1)-2° Premio di Scultura- Città di BELLIZZI– Salerno.
2)- PREMIO Biennale Rosario Ciatto – Accademia Severiade- MILANO
3)-   L 'Aeropago Letterario – FISCIANO-SA
4)-   Antiqua Terra D'Etruria, Accademia Italiana degli Etruschi- GROSSETO
5)-   Pianeta Donna – Galleria "Centro Storico" -Signa- FIRENZE
6)-   Magritte– Galleria Amart-   BRUXELLES
7)-   Montmarte 2009 -Galerie Le Patio- Mandelieu La Napole- CANNES
8)-   Leonardo da Vinci 2009- BRINDISI
9)-   I maestri dell'Arte contemporanea– Artexpò Gallery- PORTOVENERE
2010– 1)- Guglielmo II– Monreale –PALERMO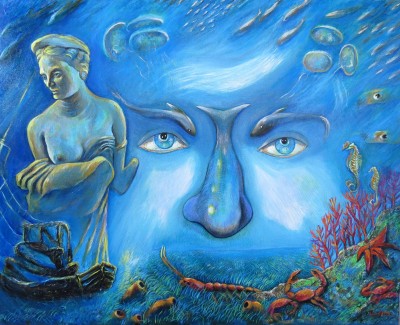 2) – Ambasciatore dell'Arte del Mediterraneo- L'Isola Felice in Art -BRINDISI
2011 – 1)- England Award- L'Isola Felice in Art- Macclesfield –MANCHESTER- ENGLAND
2)-   Città di STOCCOLMA (Il Tempio)- Bellange Ateljè Galleri – STOCCOLMA-
3)-   Premio Oscar alle arti visive – Artexpò Gallery- MONTECARLO
2012 –1)- Artexpo Gallery- Premio Biennale Gondola d'oro-Venezia.
2)- Accademia dei Dioscuri- Gran Premio degli Imperiali-Palazzo Barberini, Roma.
3)-Premio van Gogh- Galleria Arti ed Amicitiae- AMSTERDAM
4) Biennale d'Arte Contemporanea Italiana –Lecce- COSENZA , Biblioteca provinciale
MILANO,Cascina Monastero
5) Associazione Artantis-NAPOLI , Castel dell'Ovo
6) – Ambasciatore dell'Arte del Mediterraneo- L'Isola Felice in Art -BRINDISI
7) Biennale Internazionale d' Arte di PALERMO, a cura di Paolo Levi e Vittorio Sgarbi.
DONATIONS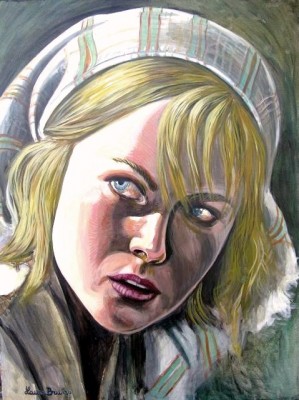 2002 – PVC Banner (m.6) -Medium School Monterisi -Salerno.
2003-paintin- "Black Mother" – S. Daniele Comboni Mission – Rome.
2004 – Portrait of Giovanni Palatucci, heroic Quaestor of Fiume -Questura Avellino.
2004 – Portrait of Palatucci – Questura Matera.
2004 – Portrait of the actor Franco Angrisano – Biblioteca Provinciale di Salerno.
2005 – Portrait of Palatucci – Istituto Superiore di Polizia di Roma.
2005 – "Madonna with Child" – Church of Laviano, Salerno.
2007 – Painting "Antonio Gramsci"- Gramsci Museum. Olzai, Cagliari.
2007- Engraving – Museum of Monsummano Terme-Pistoia. 2008 – "The Angel Raphael" – Church S. Maria La Nova-CAMPAGNA, SA. Lithography to Cardinal Poupard.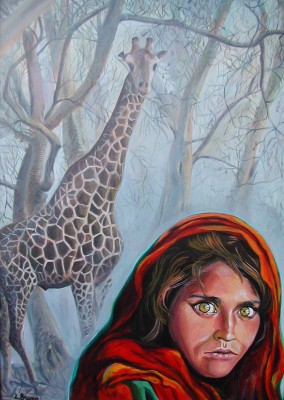 2008 – Portrait of Blessed "Giovanni Battista Scalabrini". Church Notre-Dame-De Consolation -PARIS.
2008 – Painting "Among the people" (cm100x100) in public demonstration on the 156 th anniversary of the Feast of Police. Exposed at Questura Salerno
2010- Painting "L'arma dei Carabinieri tra Arte e Società" -Circolo Ufficiali -11° battaglione del Carabinieri "Puglia" -Bari.
2012- " Only a body" -Museum of Erotics -SALERNO
Alfredo Scotti (Director of the Academy of Fine Arts, Napoli, 2007) wrote: " Volcanic, sensitive, witty and wise Artist, Laura Bruno shows in her works the prevalence of " sentimentalism over rationalism". By remaining aware of the emotional genesis of art,she shows a remarkable mastery of the medium of art without ever neglecting her own life experience, that returns in her compositions and in her portraits. Unquestionable skilled, she perfectly epithorizes the mastery of a difficult job, which gives very few satisfactions to the artist.